Experience our Manhattan art program
Kimpton Hotel Eventi is proud to introduce its newest collection of contemporary art, sourced and installed under the creative direction of Reunion Goods & Services by Art Consultant Kyle DeWoody, Associate Art Consultant Laura DVorkin and design team We Came in Peace. Extending from the hotel's original design rich in texture and depth with a variety of fine art pieces from renowned artist Barbara Nessim, the new collection introduces a mix of both established, younger artists and emerging artists with visibly promising talents.
Moving beyond the traditional decorative intention, this collection attempts far more conceptual approach by showcasing edgy and thought-provoking works including Kwangho Lee's hanging light installation made entirely out of electrical wire, and a Tony Matelli mirror—which is made to look dusty through a technique using layers of urethane. The dynamic collection also features stunning works by artists including Lorna Simpson, Alex Katz, and Ernesto Leal that flow throughout the lobby and fill spaces within The Vine and L'amico.
Inspired by the neighborhood, The Chelsea Art district, which is one of the most important and influential art districts in the world, Kimpton Hotel Eventi has evolved itself to become a destination for art lovers itself. Adding its name among a list of uniquely New York cultural experiences in the area, the hotel, along with the High Line and numerous contemporary art galleries will satisfy any travelers craving for extraordinary works of creativity and genius.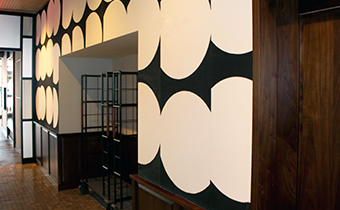 AUGUSTUS THOMPSON
Untitled (Bean Can Scenario For a Hallway), 2015
Acrylic and pencil on canvas
Approx. 83 x 222 inches
Location: Kimpton Hotel Eventi, Hallway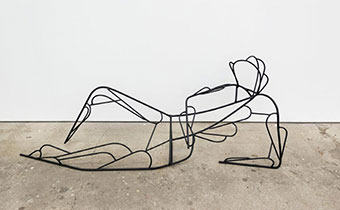 ACHRAF TOULOUB
After Paris, 2015
Metal, epoxy and car paint
25.6 x 68.9 x 17.7 inches
Location: Kimpton Hotel Eventi, Entrance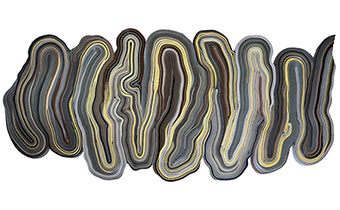 ERNESTO LEAL
Diplomacy 3, 2015
Paper strips, fabric and wood
35.4 x 78.7 x 1.4 inches
Location: Kimpton Hotel Eventi, Reception Desk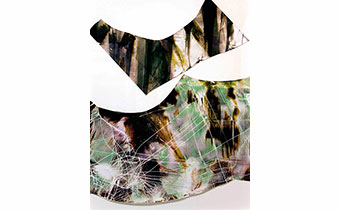 MARIAH ROBERTSON
44, 2012
Unique color print
98 x 74 inches
Location: Kimpton Hotel Eventi, Lobby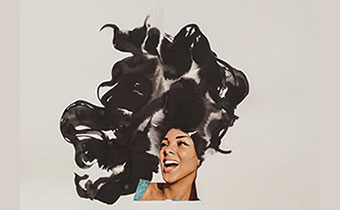 LORNA SIMPSON
Full, 2013
Collage on paper
29.5 x 21.75 inches
Location: Kimpton Hotel Eventi, Lobby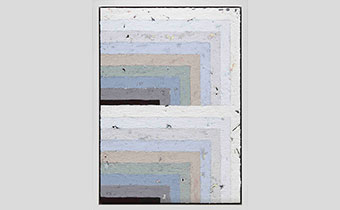 JULIAN HOEBER
Returner, 2015
Acrylic on linen over panel
34 x 24.5 inches
Location: Kimpton Hotel Eventi, Lobby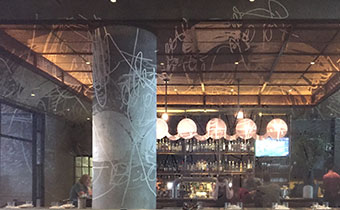 TONY MATELLI
Mom, Dad, Me, 2015
Urethane on Mirror
72 x 120 inches
Location: The Vine, Bar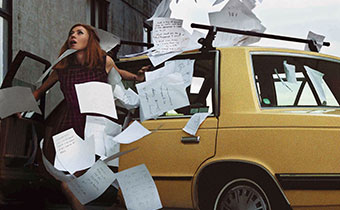 ALEX PRAGER
Caroline, 2007
C-print
36 x 21 inches Edition of 7 + 1 AP
Location: The Vine, Lounge
ALEX KATZ
Samantha, 1987
Screenprint 66.3 x 28.5 inches
Location: The Vine, Lounge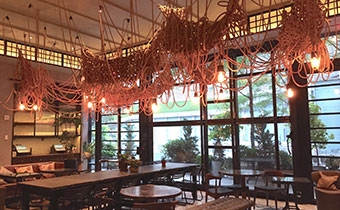 KWANGHO LEE
Knot—Beyond the Inevitable series for The Vine at Kimpton Hotel Eventi, 2015
Electrical cord, sockets and light bulbs Dimensions variable
Location: The Vine, Lounge Ceiling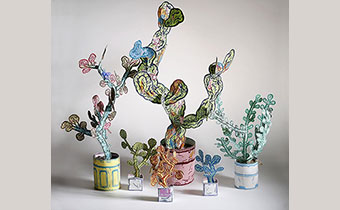 TAYLOR MCKIMENS
Titles TBD from the series 3-D Plants, 2015
3 plants made of paper and wire
Dimensions variable
Location: The Vine, Bookshelves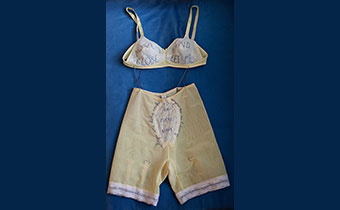 ZOË BUCKMAN
On Every Curve, 2014 Embroidery on vintage lingerie
Dimensions variable
Location: The Vine, Bathroom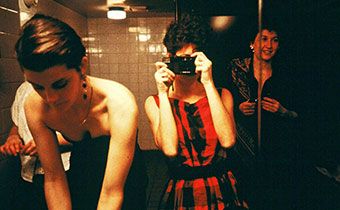 MAXI COHEN
New Year's Eve, New York City, 1985
Fujiflex crystal print 16 x 24 inches
Location: The Vine, Ladies Room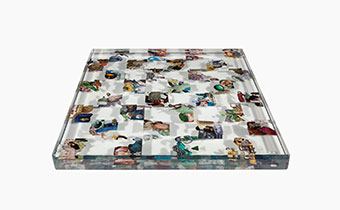 DUSTIN YELLIN
Chessboard Collage 64, 2015
Collage on glass 1.75 x 17.25 x 17.25 inches
Location: The Vine, Fireside Lounge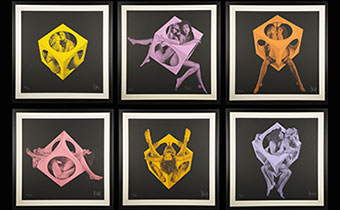 JEAN-PIERRE VASARELY (YVARAL)
Double Six, 1972
Set of 6 color serigraphs on cardboard
Each print: 29.5 x 29.5 inches Edition of 200
Location: The Vine, Hidden Bar (Carry-on)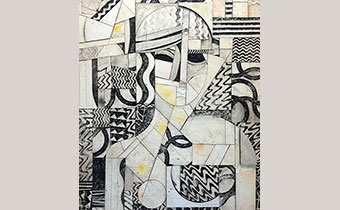 RUBY SKY STILER
Title TBD, 2015
Acrylic resin, foam, paper, pigment and spray paint
52 x 40 inches
Location: L'Amico